18 DECEMBER 2016
Nandikar scripts a first by allowing over-thecounter plastic money transactions at annual festival
Days ahead of Nandikar's 33rd National Theatre Fest ival, worry was writ large on the face of Sohini Sengupta -daughter of Rudraprasad and Swatilekha Sengupta and the flag-bearer of the group. Since the ban on `500 and `1,000 notes, theatre groups have been struggling to recover production costs, as ticket sales -the biggest source of income -was hit badly . December is the peak time for theatre festivals and the group thought of countering the cash ban by introducing a card-swiping machine. On Friday afternoon, when it did arrive at the ticket counter of the Academy of Fine Arts, there was euphoria all around."Within 30 minutes, tickets worth `8,000 had been sold. Having said that, there was already a big buzz around the festival; Panchajanya, among quite a few other shows, was sold out," Sohini told us.
The festival, which began with Sohini's Alipha and Poulami Chattopadhyay's Phera will continue for eight more days and include 23 performances from Assam, Bihar, Delhi, Karnataka, Manipur, Odisha and Bengal. The only international participant is from the US. Waman Kendre's Phoolrani, based on Bernard Shaw's Pygmalion, will premiere on December 19 and other highlights include Choumatha by Anirban Bhattacharyya and Athhoi by Arna Mukhopadhyay .
CHEQUES ARE ON TOO
But if the counter sales are any pointer, not everyone shares the same luck or organising ability as Nandikar. Marking its second anniversary , Spectactors introduced its first international theatre festival, Spectacting, at Gyan Manch on December 17. It began with Spectactors' latest production, Aagsuddhi, based on Arther Miller's The Crucible. Some of the other plays of the festival -Tritiyo Sutra's Man of the Heart: the Life & Times of Lalon Phokir and US-based group ECTA's production of Sudipta Bhawmik's Cold Fusion -will be presented on December 18 and 24. But Sudipto Chatterjee, the man behind the festival, is far from ha ppy . "We allow phone reservations and are even open to accepting banned currency notes, which we can exchange at the bank. Though there's no announcement, we are accepting cheques as well. Sales have dipped nonetheless. Since theatre deals with small denominations, it has become a big issue, as not many are open to spending `100 notes," he said.
HOW TO PAY THE CREW?
Giving us a peek into the core issue, Sudipto added, "Paying the cast and crew is becoming difficult, as the usual norm is to offer cash.For each show, the cost is no less than `35,000 and we need at least `1 lakh to pull off the festival, but as per the RBI guidelines, one can't withdraw more than `24,000 per week. We didn't get sponsors for the festival, and left without an option, had to depend entirely on crowd-funding. Also, a lot of work is being done on credit and we had to ask the team to accept pay cuts.How do we give art its due respect under the current circumstances?" Jadavpur Natya Mela, another festival, too is severely hit by the cash curb. Kaushik Kabir Ghosh of Jadavpur Abhijan, the organising group, said mobile wallets and plastic money are not an option with its audience. "Our ticket prices are low and the audience is not hands-on with online modes of payment. There are elderly people who have never heard of mobile wallets and then, those who do not have cards. Also, even if bigger groups are taking cheques, the smaller theatre groups are still accepting only cash. Overall, the situation is grim," he said.
HEY, IT'S FREE!
Amidst all the hullabaloo, West Bengal Urdu Academy has announced its second National Urdu Drama Festival -a four-day event celebrating Urdu theatre -from December 26 at Kala Mandir.Some critically acclaimed Urdu plays by celebrated directors of all times -Mohammed Ali Baig, Habib Tanvir, Mushtaq Kak and SM Azhar Alam -will be part of the festival. To avoid any cash transaction, the organising committee has made the festival free for the audience.Heena Parwez of Little Thespian, which is associated with the festival, told us, "Little Thespian held its sixth national theatre festival in November and there was no cash for food and lodging of visiting theatre groups. Though the National Urdu Drama Festival is not dependent on ticket sales, the dearth of cash is being felt severely. We are looking forward to January, when the situation is expected to change for the better."
Will it, or won't it -that remains the big question.
THE MANY VOICES
Kaushik Sen
Though theatre is fighting very bravely, it's also suffering a lot.Every January, Biplab Bandopadhyay would organise his group's annual festival in Kamarhati. This year, it was called off after the note ban. My group, Swapnasandhani, had a show of Drohokal in Naihati, where Nandikar was performing Panchajanya. Generally, such shows are always housefull, but somewhere, the euphoria was missing. Theatre, which thrives on human connect -people asking for change at the counter, haggling for tickets etc -has always stayed away from plastic money and online transactions.Not many in the audience have the means to pay online. Also, ticket prices are way cheaper than films. I am happy to know that Nandikar has introduced a card-swiping machine for the festival, but not every group will be able to follow suit. Also, I doubt if Nandikar will be able to keep up with it all year round.
Debshankar Halder
Earlier, people would come to ticket counters asking for change of `500.That too was difficult at times. And now, giving small change for `2,000, when theatre ticket prices are so low, is becoming increasingly more difficult. I am aware that Nandikar has introduced a cardswiping machine, but not many theatre groups will be able to do that.But then, there was a time when we were not used to mobile phones and now everyone has it. I am hopeful things will start looking up in the coming months.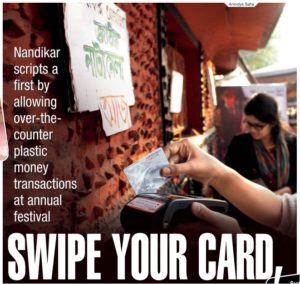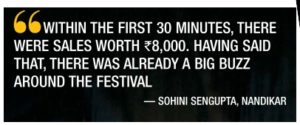 REVIEWED BY: Zinia Sen (The Times of India – Kolkata)
Main Article:
http://epaperbeta.timesofindia.com/Article.aspx?eid=31812&articlexml=SWIPE-YOUR-CARD-WATCH-THEATRE-FEST-18122016104036